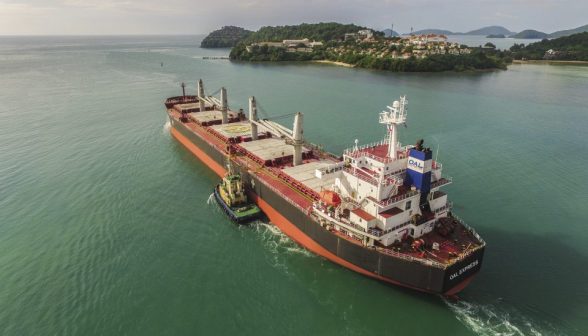 ---
Orient Asia Lines B.V.
A joint venture between Lighthouse Navigation Pte Ltd. and Nepa Holding (HK) Limited Orient Asia Lines is specialized in the carriage of dry breakbulk cargoes, and offers a regular liner service from South East Asia to the Middle-East and the Mediterranean, with flexible port calls. OAL operates a fleet of chartered in as well as in-house tonnage, sizes ranging from Handysize up to Ultramax. A team of dedicated and experienced personnel are always at your service.
---
Liner Routes
OAL has regular sailings from Southeast Asia to Arabian Gulf, Red Sea, and Mediterranean ports.
OAL Cargo Services
Orient Asia Lines having a regular sailing from South East Asia to Arabian Gulf, Red Sea, and Mediterranean ports.
OAL is specialized in the bulk transport of manufactured wood panels (such as plywood, medium-density fiberboard & veneer), wood pulp, logs, timber, paper, lumber and other forestry products. Adequate protection (such as dunnage and airbags) is being arranged by OAL to ensure a safe stowage of the various products.
OAL regularly carries bagged commodities (such as rice, sugar, fertilizers and minerals). Different bagging materials and different commodities lend themselves to different handling & stowage methods. OAL is familiar with all of them. All bags are protected by mats, heavy-duty paper and kraft papers to avoid damage/spillages. Some of the commodities require adequate ventilation channels within the cargo stows. During loading & discharging, stevedores are explicitly instructed to handle the bagged cargo with the utmost care.
OAL offers separate sailings for steel products. There are various types of steel being carried by OAL (such as coils, plates, bars, ingots, pipes, bulbs, channels, billets and blooms). When loaded, steel is placed on dunnage and dunnage is placed between successive tiers of the cargo for the safety of the cargo and the vessel. Lashing is also arranged by OAL to prevent movement of the cargo. OAL engages surveyors, in liaison with various interested parties from the supply chain, to establish the condition of the cargo prior to loading and during discharging.
Despite the fact that OAL's conventional bulk carriers are typically designed for the transport of dry breakbulk cargo, project cargoes can be carried on and under the deck. OAL from time to time also loads trucks, buses, windmill towers & blades, steel structure and other equipment. All such project cargos require extra attention when it comes to loading, securing and discharging, for which OAL employs third party technicians.
87/2 All Seasons Place Witthayu Rd, Lumphini, Pathum Wan District, Bangkok 10330